History
The Minnetonka Center for the Arts was born out of the enthusiasm, confidence, creativity and determination of a small group of people who agreed to take a summer painting class and see where it might lead. That was in the early 1950s. By the time it was incorporated on June 17, 1952, the Art Center had a reputation for quality programming on a shoestring budget.
For its first three decades, the Center thrived, outgrowing a series of rented spaces. In the early 1970s, the community took a leap of faith in purchasing its first permanent home, the former Hill Elementary School on North Shore Drive in Wayzata. The gymnasium became the main gallery, classrooms became studios and an art store. The organization added a painting studio, ceramics studio and sculpture studio with a metal pouring foundry.
In 1997, when an engineering study showed the building was structurally unstable and even extensive renovations could not bring it up to current building codes or improve its functionality to an acceptable level, the Art Center took an even larger leap of faith and launched a capital campaign to fund a new building. They hired James Dayton of James Dayton Design, Ltd. in Minneapolis as architect and fundraising began in earnest. Against all odds, the Art Center raised $6.5 million and dedicated a new facility in 2002 on the occasion of organization's 50th Anniversary.
The new building enabled the Art Center to dramatically expand it's reach. With 30% more space, studios designed for their intended functions and a secure, climate-controlled gallery, the Art Center began a new chapter of service to the community. Programs and participation have more than tripled since the dedication and the Art Center has risen to a place of national prominence among its peers.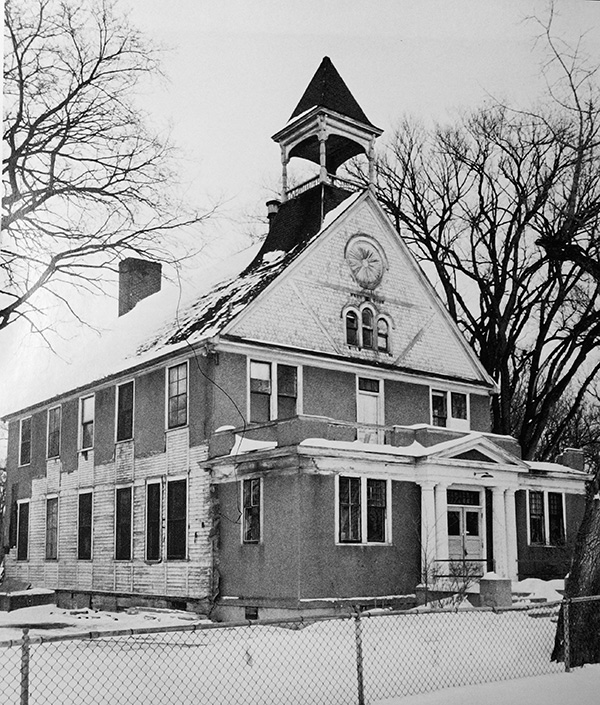 The Old Hill School – home to the Minnetonka Center for the Arts from 1957 – 1970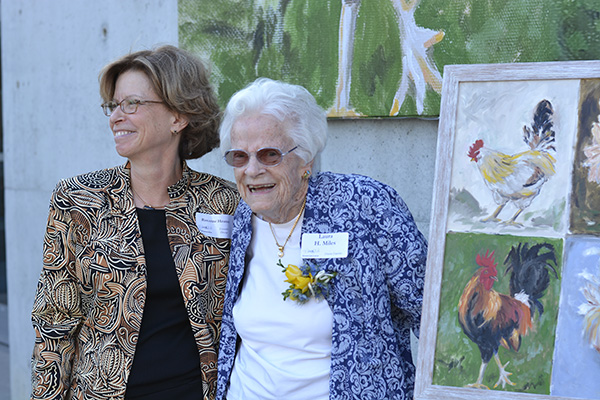 Laura H. Miles
(Nov 12, 1923 – Oct 19, 2019)
Laura Haverstock Miles, born November 12, 1923 in Minneapolis, MN.  She died peacefully on October 9, 2019.  She is survived by her children, Steven H. Miles (Joline Gitis), Henry H. Miles (Victoria), and Catherine Miles Zimba (Kenneth), two brothers, James Haverstock and Nathan Haverstock, and grandchildren Erica, Esme, Jessica, Adam, Kelsy and numerous nieces, nephews and great grandchildren.  She is preceded in death by her parents, Henry and Catherine Haverstock, beloved husband James G, Miles, sister Mary, brothers Henry and Charles Haverstock.
Laura grew up in Minneapolis, attended Washburn High School and the University of Minnesota, receiving a Doctor of Law (J.D.) in 1947.
She married James G. Miles in 1949, who was a founder of Control Data Corporation and of other computer companies in Minnesota.
Laura passionately served her community.  She was President of the Delta Gamma sorority, a member of the Board of College of Liberal Arts, and the Board of the Law School.  She was the first woman on the Board of Deacons of Plymouth Church where she taught Sunday School.  She was one of the first women on the Board of the Wayzata Country Club.  She served on the Boards of the Automobile Club, the Girls Club (now the Boys & Girls Club), and Woman's Political Caucus. She taught Cub Scouts, served as Secretary and Parliamentarian of The Woman's Club of Minneapolis, and chaired or co-chaired fundraisers for the American Red Cross, The American Refugee Committee, College of Liberal Arts and Planned Parenthood.  She and her husband were instrumental in creating Minneapolis Children's Hospital. Chief Justice Popovich appointed her to a committee to study gender bias in the Minnesota Courts, a report that went to the Chiefs Justices in all states.  She worked to elect Rosalie Wahl, the first woman to join the Minnesota Supreme Court.  She served on President Carter's Conference on Families. In 1973, she won the WCCO Good Neighbor Award.
In 1974, she ran for Lieutenant Governor of Minnesota when Jim ran for Governor.  She was proud that, after their campaign, male candidates started choosing woman as running mates.
Laura loved the arts, especially painting.  She chaired many committees for the Minnetonka Center for the Arts, including the committee to raise funds to buy the Art Center property from the Orono School District and was President of the fundraising committee for their current building. Over the course of her painting 'career', Laura had several one-woman exhibits, won 1st prize and The Minnesota State Fair in 1986, was juried in as an exhibitor at the Fair many other years.  She loved to paint flowers, landscapes and chickens!  The Minnetonka Center for the Arts displays a large reproduction wall hanging of one of her chicken paintings.
Laura and Jim were members and donors to Plymouth Congregational Church, Wayzata Community Church and the Rio Verde Community Church.
She helped her husband Jim establish the 450-acre Vermillion River Aquatic and Wildlife Management Area in Dakota County, Minnesota.
The family would like to thank Laura's caregivers Renee Stine, Beverly Siegle, Barbie Burns,
Ereyna Haugen, Stephanie Salonek, Jennifer Garrity and Beatrice Poku, as well as Park Nicollet
Methodist Hospice Program and Meridian Manor for their wonderful care.
Funeral services will be held at the Wayzata Community Church on Saturday, October 19, 10:30 a.m.  125 Wayzata Blvd. East, Wayzata, MN 55391.  A private, family burial is planned for a later date.
Memorials in her name are invited to the Minnetonka Center for the Arts and Planned Parenthood of Minnesota, North Dakota, South Dakota.