Minnetonka Center for the Arts Matters video. (13:19))

Northwest Suburban Conference have a special opportunity each year to experience art at the MCFTA (CCX Media 1:10)
Foundry Dance (3:44)
Produced by Matt and Heidi Hoy at the Minnetonka Center for the Arts, Foundry Dance documents the lost-wax bronze casting process beginning to end. (Music by Cloud Cult.) Minnetonka Center for the Arts is one of the only publicly accessible sculpture foundries in the Upper Midwest.
The Realization of a Dream: The Photographs of Edward Curtis (2:36) 

Minnesota: A dementia friendly state of mind (KARE11 5:01)
MCFTA and City of Minnetonka Dementia Friendly City Initiative Partnership Programs are made possible by the voters of Minnesota through a Minnesota State Arts Board Arts Access grant, thanks to a legislative appropriation from the arts and cultural heritage fund.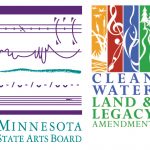 Partners in art with Ridgedale Center. (Lake Minnetonka Community Television 3:27)
Mark Balma – fresco (MN Originals / TPT 9:13)

Mark Balma "We the People" timelapse (MN Originals / TPT 3:47)

Summer Arts Camps (SAC) (Lake Minnetonka Community Television 10:00)

MCFTA Summer Arts Camps (SAC) program (Lake Minnetonka Community Television 3:10)
Bryan Holland (painter) (MN Originals / TPT 6:35)
Dakota Hoska (visual artist) (MN Originals / TPT 6:20)

Heidi Hoy (sculptor) (MN Originals / TPT 7:41)

Keren Kroul (painter) (MN Originals / TPT 6:30)

Ernest Miller (ceramicist) (MN Originals / TPT 4:37)
Eric Mueller (photographer) (MN Originals / TPT 8:47)

Danny Saathoff (jeweler & sculptor) (MN Originals / TPT 5:24)
Art of the Garden
Art of the Garden exhibit (CCX Media 2:05)
2018 Arts of the Holidays
Arts of the Holidays, 2018
Images from the Preview Party